Roomba e5 Robot Vacuum & Braava jet 240 Robot Mop Bundle
SAVE $70 OFF RRP!
TEMPORARILY OUT OF STOCK
The Roomba®️ e5 Robot Vacuum features a premium 3-Stage Cleaning System that uses Dual Multi-Surface Rubber Brushes, Power-Lifting Suction, and a High-Efficiency Filter to help thoroughly clean every day. The Edge-Sweeping Brush concentrates on edges and corners as Dirt Detect™️ technology and intelligent navigation help the Robot get around furniture and focus on areas that need it most. Control and schedule cleanings using the iRobot HOME App.
The iRobot Braava jet™ Robot Mop tackles dirt and stains in small spaces, like kitchens and bathrooms. Designed to wet mop, damp sweep, or dry sweep hard floors. With its square shape and compact size, Braava jet™ gets into hard-to-reach places, including under and around toilets, into corners, and below cabinets.
iRobot Roomba e5 Robot Vacuum & Braava jet 240 Robot Mop.

The iRobot limited warranty shall not apply to failures or problems which are caused by products or equipment not authorised by iRobot Corporation.
Box Contents:
1 iRobot® Roomba® e5 Robot Vacuum
1 Rechargeable Battery
1 Home Base® Charging Station
1 Line Cord
1 Dual Mode Virtual Wall Barriers (batteries included)
1 Extra Filter
1 Year Manufacturer's Limited Warranty On Robot and Battery
Specifications:
Robot Dimensions: 37.8 cm in diameter, 9.14 cm in height
Robot Weight: 3.3 kg
Box Contents
1 iRobot® Braava jet™ 240 Robot Mop
1 Rechargable Battery
1 Battery Charger
2 Wet Mopping Pads
2 Damp Sweeping Pads
2 Dry Sweeping Pads
1 Year Manufacturer's Limited Warranty On Robot and Battery
Specifications
Package Dimensions: 10 cm x 28.5 cm x 24 cm
Package Weight: 1.9 kg
Robot Dimensions: 17 cm x 17.8 cm x 8.4 cm
Robot Weight with Battery: 1.2 kg
How do Roomba robot vacuums work?
For a robot vacuum to be effective, it not only needs to be able to clean well, but must have the ability to navigate real world homes. Roomba uses a full suite of sensors and an advanced navigation system to seek out the dirtier areas of your floors and spends more time cleaning them.
Will Roomba e5 work without using the iRobot HOME App?
Yes, Roomba e5 can be used without the iRobot HOME App, but the App allows you to use your iOS or Android smart device to help you have the best possible experience with Roomba® e5. With the iRobot HOME App, you can gain access to exclusive features including cleaning while away from home, managing your robot's cleaning schedule, customising your cleaning preferences and more. Now compatible on devices with Amazon Alexa and the Google Assistant.
How do Roomba robot vacuums compare to an upright vacuum?
Roomba can go places your upright can't – like under most furniture to get dust bunnies and pet hair. It can also be scheduled to clean every day to stay ahead of dirt build-up.
Can Roomba robot vacuums adjust to different floor surfaces?
Yes. Roomba automatically adjusts to clean carpets, rugs, tile, hardwood, and laminate floors as it moves through your home.
Will Roomba work on dark or black surfaces?
Unfortunately, Roomba may not run on certain dark or black coloured surfaces. The cliff sensors that recognise an edge or a stair may view this colour as an edge and will not clean over it. When encountering this situation, Roomba® may say "Move Roomba to a new location," or it may back away from this area. There is no adjustment that can be made to correct this behavior.
Do not block or disable the cliff sensors, as this may create an unsafe operating condition.
What kind of floors can Braava clean?
Braava is designed exclusively for hard-surface floors. It works on virtually any hard flooring including wood, tile, vinyl and laminate.
Is Braava a vacuum?
No, Braava is not a vacuum or a brush sweeper that can actually distribute dust on hard-surface floors. Instead, Braava uses cleaning cloths to both sweep and mop hard surface floors to keep them free of grit and grime. You can use popular disposable cleaning cloths, or the reusable microfiber cloths designed specifically for Braava.
What cleaning solutions do you recommend with Braava?
We recommend using just tap water. We recommend staying away from harsh cleaners as they can be hard on Braava's internal parts and soapy solutions that may cause the wheels to slip while cleaning.
How often should I use Braava?
It depends on how dirty your floors are, but the more frequently you use it, the happier you will be with your floors. Since dust is constantly accumulating, Braava always has a job to do.
Great For Pet Hair, Intelligent Navigation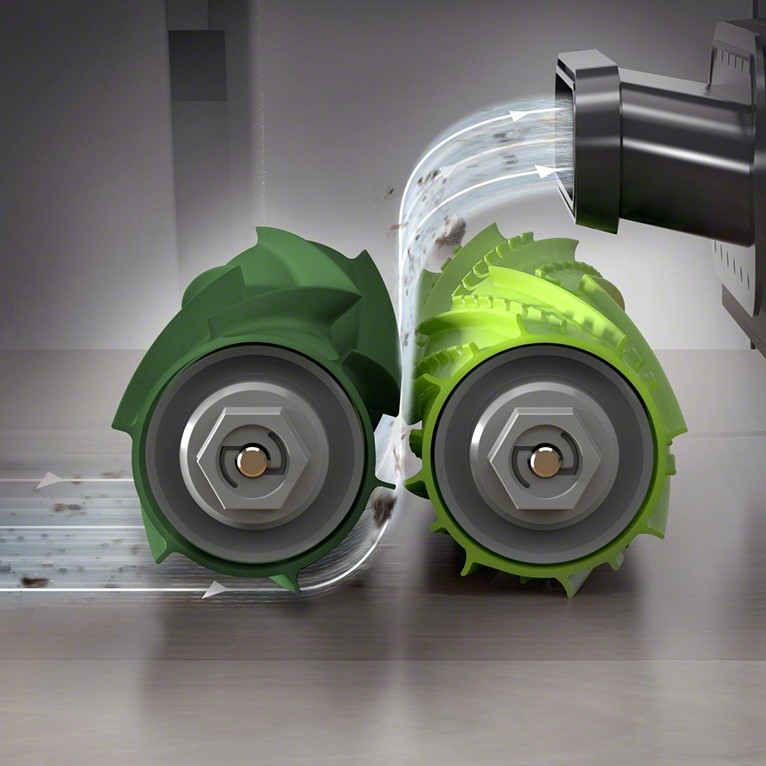 Rubber Brushes That Know A Thing Or Two About Cleaning
Instead of bristles that bend and can miss dirt, our unique flexible rubber brushes hug different floor surfaces, staying in close contact with wood and carpet to help thoroughly clean your floors. The Edge-Sweeping Brush is specially designed at a 27-degree angle to sweep debris away from edges and corners to be suctioned off your floors.
Picks Up More Pet Hair Than Other Robotic Vacuums*
Ideal for homes with pets - Unique Dual Multi-Surface Rubber Brushes and our Premium 3-Stage Cleaning System cleans the dirt and pet hair you see, and the allergens and dust you don't. The High-Efficiency Filter captures 99% of cat and dog allergens. With 5x more suction compared to Roomba 600 series, it pulls in embedded dirt, debris, and pet hair from wherever it hides.
*Based on proposed IEC fiber pick-up test against Shark, Neato, Ecovacs, iLife, bObsweep.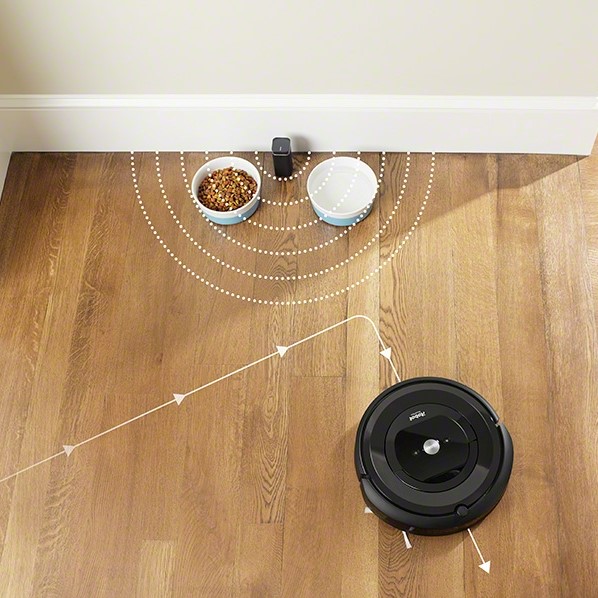 Intelligently Navigates Your Home - "Isolate" The Rooms You Don't Want Roomba To Go
iAdapt Navigation uses a suite of intelligent sensors that help the Roomba e5 make more than 60 decisions per second to adapt to your home's different rooms and help to thoroughly clean your floors, even in the dark. Cliff sensors keep it away from stairs and other drop-offs. The Auto Virtual Wall creates an invisible barrier that keeps your Roomba Robot Vacuum in the rooms you want clean and out of the ones you don't.
Dirt Detect, Auto-Adjust Cleaning Head, Washable Bin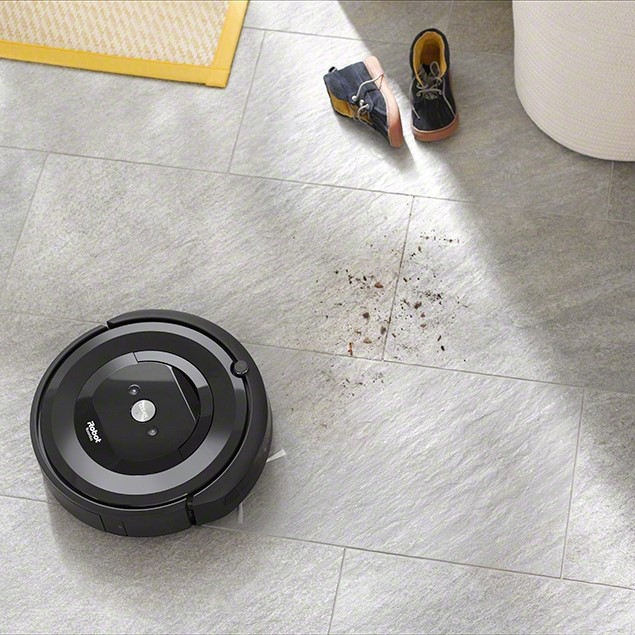 A Dirt Detective, Working For You
The Roomba e5 removes dirt from high-traffic spots of your house using Dirt Detect Technology. Sensors find the dirtiest areas of your home and alert the Robot to clean those spots more thoroughly.
Cleans Debris From Carpets And Hard Floors
The Auto-Adjust Cleaning Head automatically adapts its height to keep the Dual Multi-Surface Brushes in close contact with different floor surfaces, to effectively clean hard floors and carpets.
It All Comes Out In The Wash
Simply rinse away dirt or debris left behind in the dust bin. Keeping your Robot's bin clean has never been easier.
Robot Mop For Kitchens, Bathrooms, And Other Small Spaces
Cleans Floors In An Efficient, Systematic Pattern
Braava jet™ mops and sweeps kitchens, bathrooms and other small spaces in a efficient, systematic cleaning pattern. Braava jet™ cleans up to 25m2 in damp/dry mode and up to 20m2 in wet mode*. With its square shape and compact size, Braava jet™ gets into hard-to-reach places, including under and around toilets, into corners, and below cabinets. The compact design also makes Braava jet™ easy to store, featuring a convenient handle for portability. Braava jet™ automatically selects the correct cleaning method based on pad type. Choose from wet mopping, damp sweeping, and dry sweeping pads. With the easy Pad Eject button, you'll never touch grime or grit on the cleaning pad from start to finish.
*Tested in iRobot's Home Test Lab on hard floors.
Cleans Only Where You Want It To
Braava jet™ remembers obstacles in its path and slows down to gently clean along furniture, walls, and fixtures. Cliff Detect keeps Braava jet™ from falling down stairs and other drop-offs. Braava jet™ avoids riding up on rugs. Create an invisible boundary with Virtual Wall Mode to keep Braava jet™ in rooms without a door, such as kitchens and entryways. It searches for obstacles in its path before it sprays to help protect furniture, rugs, and walls.
Mops and Sweeps Hard Floors
Braava jet™ is designed to mop and sweep heard floors, including hardwood, tile and stone*. The Vibrating Cleaning Head** gently scrubs dirt and stains, cleaning along furniture, walls and fixtures. Precision Jet Spray** loosens dirt and stains without spraying furniture or walls. Its quiet operation won't disrupt your daily life. Braava jet™ returns to its starting point after completing a cleaning run and automatically shuts off after a cleaning run, or if it encounters a problem.
*Always follow manufacturer or installer instructions when cleaning your floors.
**Vibrating Cleaning Head and Precision Jet Spray used only in Wet Mopping and Damp Sweeping modes.