Roomba i7 Robot Vacuum & Braava jet m6 Black Robot Mop Bundle
Or

AUD 459.60

today and more time to pay with
SAVE $200 OFF RRP!
OUT OF STOCK - LIMITED STOCK AVAILABLE SOON
REGISTER HERE to be notified when stock arrives
The Roomba® i7 robot vacuum uses a premium 3-Stage Cleaning System with Dual Multi-Surface Rubber Brushes and 10x suction* to clean different floor surfaces throughout your home. Roomba® i7 learns, maps and adapts to each room, using Imprint™ Smart Mapping technology, letting you control which rooms are cleaned and when. Cleaning power is always at your fingertips with the iRobot HOME App - you can control when, where, and how your robot cleans all from your smart phone. 
Welcome to the end of mopping as you know it. Braava jet® m6 robot mop is our most advanced mopping robot and cleans like you would. The ultimate robot mop with Precision Jet Spray, Braava jet® m6 helps tackle sticky messes, grime,** and kitchen grease with less effort from you.
*Compared to the Roomba® 600 Series AeroVac™ system.
**Tested in spot clean mode
iRobot Roomba i7 Robot Vacuum & Braava jet m6 Robot Mop.

The iRobot limited warranty shall not apply to failures or problems which are caused by products or equipment not authorised by iRobot Corporation.
Box Contents
1 iRobot® Roomba® i7 Robot Vacuum
1 Home Base® Charging Station
1 Line Cord
1 Dual Mode Virtual Wall® Barrier (2AA batteries included)
1 Extra Filter
1 Extra Edge-Sweeping Brush
Specifications:
Package Dimensions: 12.9 x 41 x 51cm
Package Weight: 5.2kg
Robot Dimensions: 33.9 cm in diameter, 9.22 cm in height
Robot Weight: 3.4 kg
Box Contents
1 iRobot Braava jet® m6 Robot Mop
1 Lithium Ion Battery
1 Home Base Charging Station
1 Line Cord
2 Wet Mopping Pads
2 Dry Sweeping Pads
1 Washable Wet Mopping Pad
1 Braava jet® Hard Floor Cleaning Solution Sample
1 Year Manufacturer's Limited Warranty on Robot and Battery
Specifications
Robot Dimensions: 27 cm x 25.2 cm x 9 cm
Robot Weight: 2.2 kg
What is Imprint™ Smart Mapping?
Smart Mapping technology describes the robot's ability to learn, map and adapt to your home. Roomba i7 learns your floor plan as it cleans and remembers this map for future cleaning jobs – this enables the robot to determine the best way to clean based on the orientation of each room, furniture placement, etc. Once the robot has learned your space and you have labelled your rooms, your Smart Map also enables you to clean a room, multiple rooms, or an entire level of your home all from the iRobot HOME App.
How does Roomba i7 build its Smart Map and know your rooms?
Roomba i7 builds a map of the area each time it starts a new cleaning job. After cleaning the same space a few times, Roomba i7 will produce a Smart Map that is pre-segmented into different spaces or rooms. This map can be customised in the iRobot HOME App. You can merge, split and label rooms as you see fit. After that, you can schedule the Roomba i7 to clean certain rooms at certain times, or have the robot clean an entire level of your home.
Can the Roomba i7 remember more than one floor plan?
Yes! The Roomba i7 can remember up to 10 unique floor plans, so you can carry the robot to a different floor or a different home. As long as the robot has mapped the space, it will recognise its location and clean as directed.
How often does the robot's bin need to be emptied?
Emptying frequency varies by household and depends upon factors such as floor surfaces being cleaned and whether or not you have pets. When the robot's bin is full, you will receive a notification through the iRobot HOME App.
Is the robot bin dishwasher safe?
No. The washable bin should be rinsed by hand using warm water. Important: Be sure to remove the filter before rinsing the bin. Allow bin to dry completely before reinstalling the filter.
What kind of floors can Braava clean?
Braava is designed exclusively for hard-surface floors. It works on virtually any hard flooring including wood, tile, vinyl and laminate.
Is Braava a vacuum?
No, Braava is not a vacuum or a brush sweeper that can actually distribute dust on hard-surface floors. Instead, Braava uses cleaning cloths to both sweep and mop hard surface floors to keep them free of grit and grime. You can use popular disposable cleaning cloths such as Swiffer® brand, or the reusable microfiber cloths designed specifically for Braava.
What cleaning solutions do you recommend with Braava 380t?
We recommend using just tap water. We recommend staying away from harsh cleaners as they can be hard on Braava's internal parts and soapy solutions that may cause the wheels to slip while cleaning or clog the wick on the Reservoir Pad.
How often should I use Braava?
It depends on how dirty your floors are, but the more frequently you use it, the happier you will be with your floors. Since dust is constantly accumulating, Braava always has a job to do.
How do the microfiber cloths work?
Dry microfiber cloths effectively gather up dirt, dust and hair. And the specially textured cloths can be used for mopping by simply wetting with water and wringing them out. Each can be washed and reused hundreds of times.
Power-Lifting Suction, Hands-Free Control, iAdapt 3.0 Navigation
Hey Dirt, Don't Get Too Comfortable
Power-Lifting Suction that delivers 10x the air power (compared to Roomba® 600 Series AeroVac™ System) for improved pick-up performance.
Pick A Room - Or Every Room
Enjoy hands-free control with Alexa-enabled devices and the Google Assistant. Learns your home, remembers your rooms, and adapts to determine the best way to clean with Imprint™ Smart Mapping. Knows your kitchen from your living room - choose which rooms are cleaned and when in the iRobot HOME App.
Amazon, Echo, Alexa, and all related logos are trademarks of Amazon.com, Inc. or its affiliate. Google Home is a trademark of Google LLC.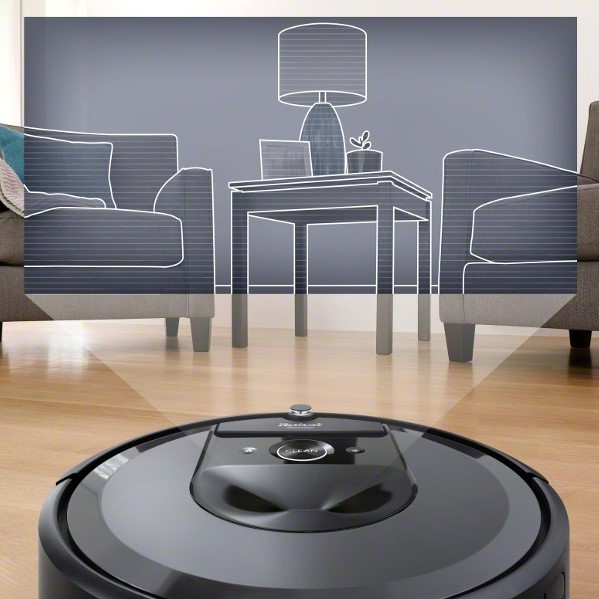 Guided By Serious Smarts
Patented iAdapt® 3.0 Navigation with vSLAM® technology allows the robot to map its surroundings to seamlessly and efficiently clean an entire level of your home. The robot creates visual landmarks to keep track of where it's been and where it has yet to clean.
3-Stage Cleaning System, Imprint™ Link Technology, Keep Out Zones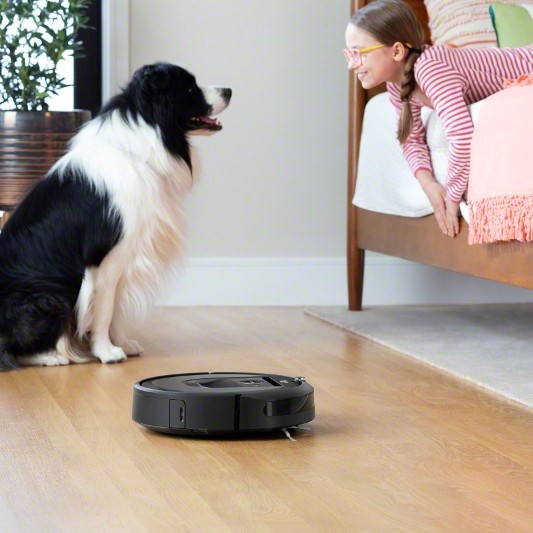 Cleans What You See, Filters What You Don't
Ideal for homes with pets - Premium 3-stage Cleaning System cleans the dirt and pet hair you see, and the allergens and dust you don't. High-Efficiency Filter captures 99% of cat and dog allergens*.
The Dual Multi-Surface Brushes are uniquely designed with rubber treads that stay in constant contact with different floor surfaces - from hard floors to carpets - adjusting and flexing, to get everything from small particles like dust and dirt, to hair and large debris.
*Based on proposed IEC fiber pick-up test against Shark, Neato, Ecovacs, iLife, bObsweep.
Imprint™ Link Technology
Roomba i7 tells Braava jet® m6 to start mopping when vacuuming is complete, for an extra level of clean.
 The iRobot HOME App gives you complete control from anywhere - letting you schedule, customise, and select the rooms you want cleaned. Enjoy hands-free control with Alexa or the Google Assistant.
Stays In Bounds
Keep Out Zones allow you to clean with added control, actively avoiding the areas you tell your i7 or m6 robot not to go, like around pet bowls and toys. Once you set a zone it will remain in place for all future cleaning jobs.
Messes Don't Stick Around, Navigation Technology, Recharge & Resume
Wet Mopping and Dry Sweeping Modes
Attach a Braava jet® Cleaning Pad and the robot automatically selects the cleaning method. 
Wet Mopping pads feature wicking fibres to help break-up sticky messes, grime*, and kitchen grease.
Dry Sweeping pads use electrostatic force to capture dirt, dust, and pet hair.
Precision Jet Spray loosens dirt and sticky mess without spraying furniture, rugs, or walls.
*Tested in spot clean mode 
Knows Your Kitchen From Your Living Room
With Imprint™ Technology, Braava jet® m6 does more than just mop your home. It learns and adapts to determine the best way to clean. Since the Braava jet® m6 robot mop knows your home, you can tell it exactly where to clean and when.
Braava jet® m6 is ideal for multiple rooms and large spaces. It cleans in an efficient pattern while navigating around furniture, rugs, and other obstacles. Braava jet® m6 has a maximised-edge design to get into corners and along edges.
Smart Charge & Resume
When Braava jet® m6 robot mop has a low battery, the robot will intelligently recharge for the amount of time needed to continue cleaning and get the job done.