Roomba j7 Robot Vacuum & Braava jet m6 Black Robot Mop Bundle
Or

AUD 419.60

today and more time to pay with
SAVE $200 OFF RRP!
Get ready for the robot vacuum you can rely on to get the job done. The Roomba® j7 robot vacuum packs 10x the power-lifting suction* and comes with unique intelligence to avoid cords and pet waste. It even understands times when you're home and seasons when more cleaning may be needed.
Welcome to the end of mopping as you know it. Braava jet® m6 robot mop is our most advanced mopping robot and cleans like you would. The ultimate robot mop with Precision Jet Spray, Braava jet® m6 helps tackle sticky messes, grime,** and kitchen grease with less effort from you.
*Compared to the Roomba® 600 Series AeroVac™ system.
**Tested in spot clean mode
iRobot Roomba j7 Robot Vacuum & Braava jet m6 Robot Mop.
 
The iRobot limited warranty shall not apply to failures or problems which are caused by products or equipment not authorised by iRobot Corporation.
Box Contents
1 Roomba® j7 Robot Vacuum
1 Home Base® Charging Station
1 Line Cord
1 Extra filter
1 Extra Edge-Sweeping Brush
Specifications:
Package Dimensions: 12.9 x 41 x 51cm
Package Weight: 5.2kg
Robot Dimensions: 33.9 cm in diameter, 9.22 cm in height 
Robot Weight: 3.4 kg
Box Contents
1 iRobot Braava jet® m6 Robot Mop
1 Lithium Ion Battery
1 Home Base Charging Station
1 Line Cord
2 Wet Mopping Pads
2 Dry Sweeping Pads
1 Washable Wet Mopping Pad
1 Braava jet® Hard Floor Cleaning Solution Sample
1 Year Manufacturer's Limited Warranty on Robot and Battery
Specifications
Robot Dimensions: 27 cm x 25.2 cm x 9 cm
Robot Weight: 2.2 kg
This robot has one mission: Get the job done right
Your dream of a clean home amid the commotion of everyday life and ever-changing schedules doesn't have to be a dream any longer. The Roomba® j7 robot vacuum uses PrecisionVision Navigation to get around your home and clean up dinner crumbs under the table, the film night popcorn that didn't make it into your mouth, the dog fur and the daily dirt and dust—dependably and thoroughly.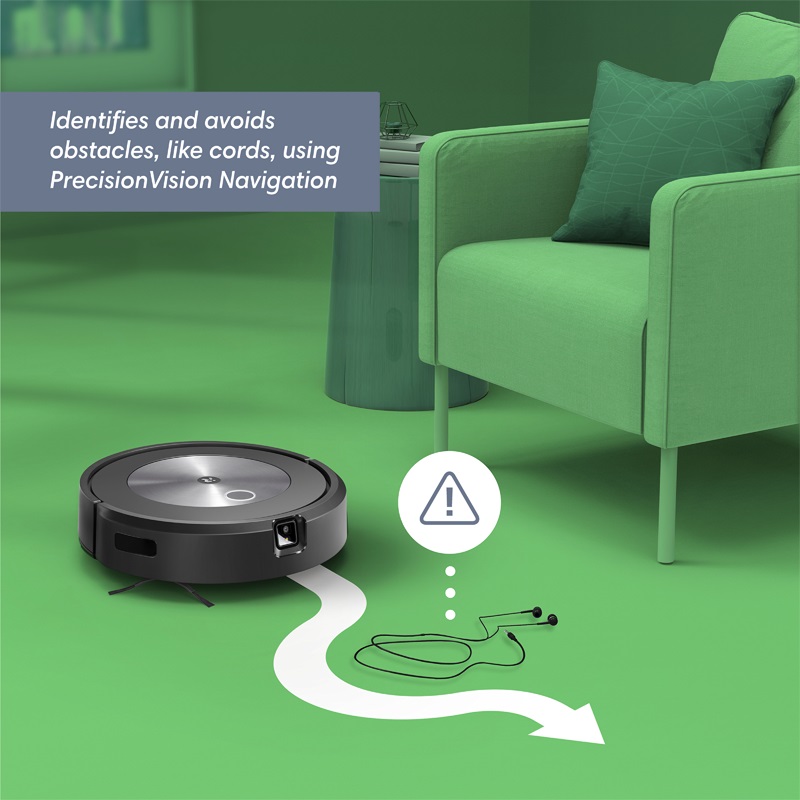 Keeps you in the loop so you're always in control of your clean
Your home never looks the same way twice, which the Roomba® j7 robot vacuum is designed to handle. Using PrecisionVision Navigation, it identifies and avoids obstacles like charging cables in real time. It even sends you a picture of what it comes across so you're always in the loop on your home's clean.
Combines power, precision and performance
To get the whole job done right for you, the Roomba® j7 robot vacuum's powerful 3-Stage Cleaning System packs 10x the Power-Lifting Suction,* an Edge-Sweeping Brush that gets along walls and corners and patented Dual Multi-Surface Rubber Brushes that flex to adjust to different floor types and don't get tangled with pet hair.
Come home to clean
With iRobot Genius, you can choose to set your robot to start cleaning when you leave and stop when you come back home, so you only notice the clean, but never the cleaning. Enjoy a clean home and your day.
Imprint™ Link Technology
Roomba j7 tells Braava jet® m6 to start mopping when vacuuming is complete, for an extra level of clean.
 The iRobot HOME App gives you complete control from anywhere - letting you schedule, customise, and select the rooms you want cleaned. Enjoy hands-free control with Alexa or the Google Assistant.
Stays In Bounds
Keep Out Zones allow you to clean with added control, actively avoiding the areas you tell your i7 or m6 robot not to go, like around pet bowls and toys. Once you set a zone it will remain in place for all future cleaning jobs.
Messes Don't Stick Around, Navigation Technology, Recharge & Resume
Wet Mopping and Dry Sweeping Modes
Attach a Braava jet® Cleaning Pad and the robot automatically selects the cleaning method. 
Wet Mopping pads feature wicking fibres to help break-up sticky messes, grime*, and kitchen grease.
Dry Sweeping pads use electrostatic force to capture dirt, dust, and pet hair.
Precision Jet Spray loosens dirt and sticky mess without spraying furniture, rugs, or walls.
*Tested in spot clean mode 
Knows Your Kitchen From Your Living Room
With Imprint™ Technology, Braava jet® m6 does more than just mop your home. It learns and adapts to determine the best way to clean. Since the Braava jet® m6 robot mop knows your home, you can tell it exactly where to clean and when.
Braava jet® m6 is ideal for multiple rooms and large spaces. It cleans in an efficient pattern while navigating around furniture, rugs, and other obstacles. Braava jet® m6 has a maximised-edge design to get into corners and along edges.
Smart Charge & Resume
When Braava jet® m6 robot mop has a low battery, the robot will intelligently recharge for the amount of time needed to continue cleaning and get the job done.