Roomba i3 Robot Vacuum & Braava jet m6 Black Robot Mop Bundle
Or

AUD 369.60

today and more time to pay with
SAVE $150 OFF RRP!
OUT OF STOCK - LIMITED STOCK AVAILABLE SOON
REGISTER HERE to be notified when stock arrives
The Roomba® i7+ robot vacuum with Clean Base™ Automatic Dirt Disposal takes convenience to a new level — automatically emptying into an enclosed bag that holds 30 robot bins, so you don't have to think about vacuuming for weeks at a time. The premium 3-Stage Cleaning System uses Dual Multi-Surface Rubber Brushes and 10x suction* to clean different floor surfaces throughout your home.
The i7+ robot learns, maps, and adapts to your home using Imprint™ Smart Mapping technology, letting you control which rooms are cleaned and when. Wherever you are, you can control when, where, and how your Robot cleans from the iRobot HOME App for a truly customised clean.
Welcome to the end of mopping as you know it. Braava jet® m6 robot mop is our most advanced mopping robot and cleans like you would. The ultimate robot mop with Precision Jet Spray, Braava jet® m6 helps tackle sticky messes, grime,** and kitchen grease with less effort from you.
*Compared to the Roomba® 600 Series AeroVac™ system.
**Tested in spot clean mode
iRobot Roomba i3 Robot Vacuum & Braava jet m6 Robot Mop.
 
The iRobot limited warranty shall not apply to failures or problems which are caused by products or equipment not authorised by iRobot Corporation.
Box Contents:
1 iRobot® Roomba® i3 Robot Vacuum
1 Rechargable Battery
1 Clean Base™ + Automatic Dirt Disposal
1 Line Cord
2 Dirt Disposal Bags 
1 Dual Mode Virtual Wall® Barrier ( 2AA batteries included) 
1 Filter
1 Extra Edge-Sweeping Brush
1 Year Manufacturer's Limited Warranty On Robot and Battery
Specifications:
Package Dimensions: 42 cm x 40 cm x 50 cm
Package Weight: 11.3 kg
Robot Dimensions: 33.9 cm in diameter, 9.2 cm in height 
Robot Weight: 3.4 kg
Box Contents
1 iRobot Braava jet® m6 Robot Mop
1 Lithium Ion Battery
1 Home Base Charging Station
1 Line Cord
2 Wet Mopping Pads
2 Dry Sweeping Pads
1 Washable Wet Mopping Pad
1 Braava jet® Hard Floor Cleaning Solution Sample
1 Year Manufacturer's Limited Warranty on Robot and Battery
Specifications
Robot Dimensions: 27 cm x 25.2 cm x 9 cm
Robot Weight: 2.2 kg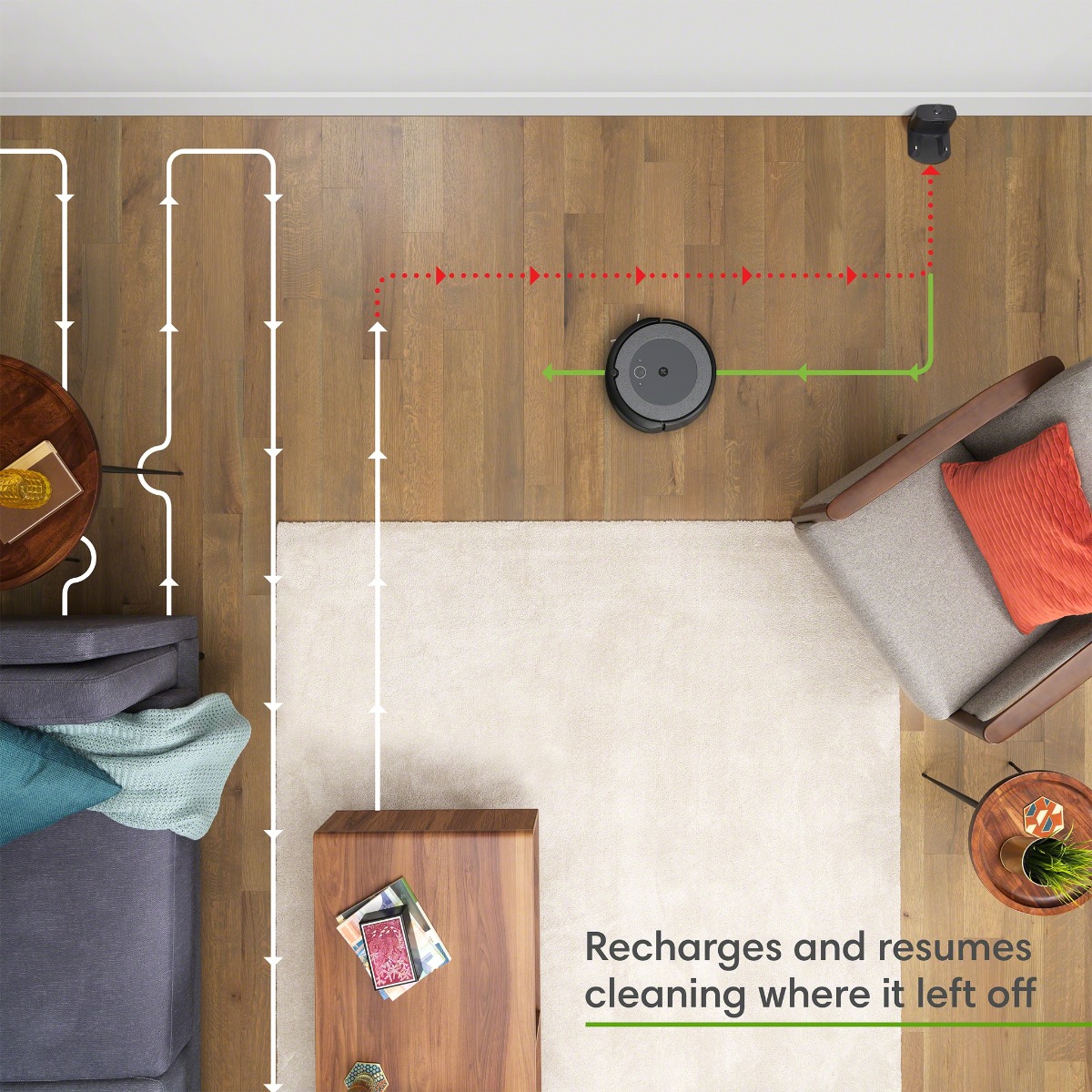 Navigates purposefully and logically
Intelligent, straight line navigation uses floor tracking sensors to clean purposefully and logically in neat rows. When its running low on battery it recharges and resumes right where it left off, ensuring a complete clean.
Dirt hits the dust
Pulls in stubborn dirt and messes with a 3-Stage Cleaning System that uses Dual Multi-Surface Rubber Brushes, an Edge-Sweeping brush for walls and corners, and 10X the Power-Lifting Suction*
*Compared to Roomba® 600 Series AeroVac™ System.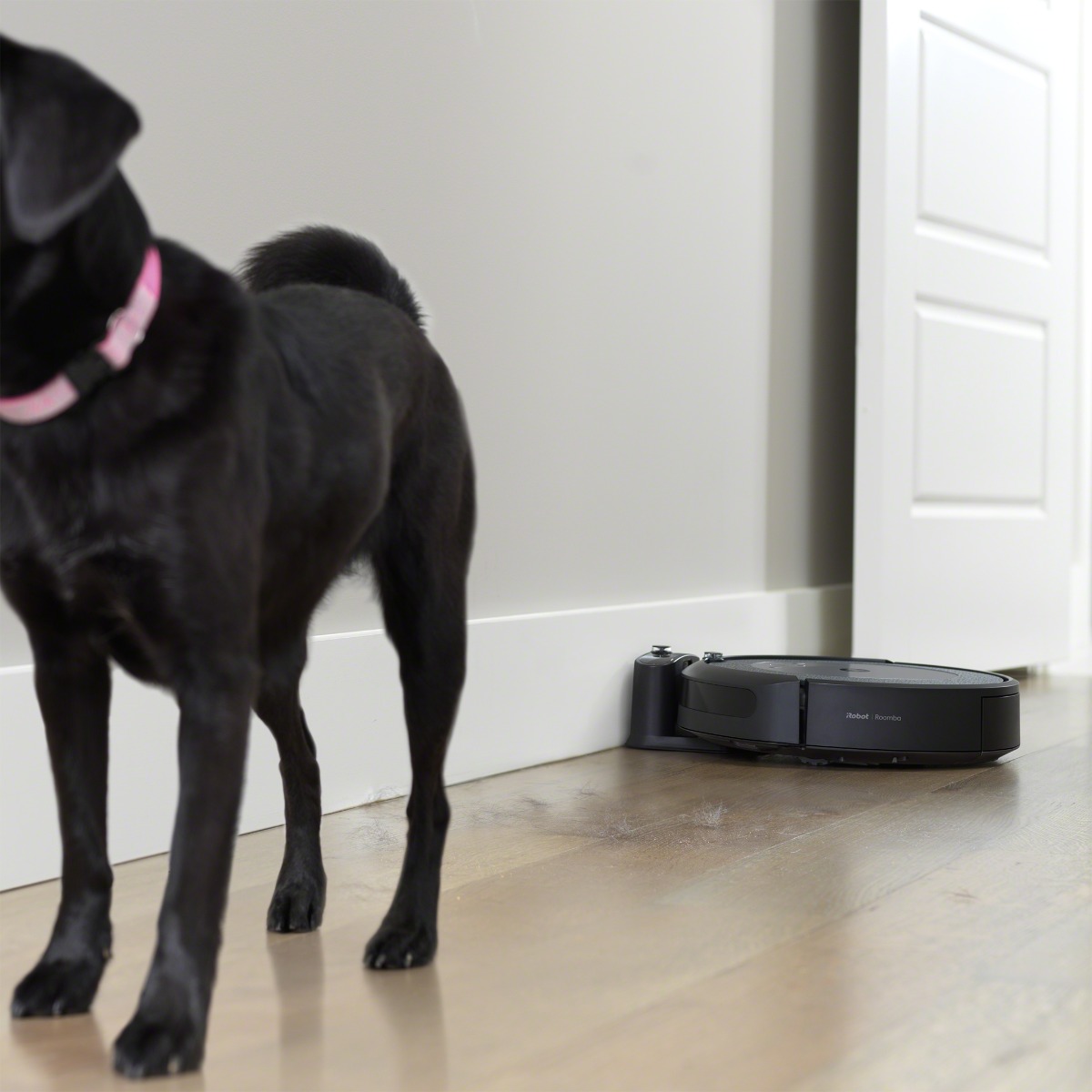 Cleans what you see, Filters what you don't
Ideal for homes with pets - Premium 3-stage Cleaning System cleans the dirt and pet hair you see, and the allergens and dust you don't. High-Efficiency Filter captures 99% of cat and dog allergens*. The dual brushes are uniquely designed with rubber treads that stay in constant contact with different floor surfaces - from hard floors to carpets - adjusting and flexing, to get everything from small particles like dust and dirt, to hair and large debris.
*Based on proposed IEC fiber pick-up test against Shark, Neato, Ecovacs, iLife, bObsweep.
Goes where it's needed, avoids where it's not
Reactive Sensor Technology helps it avoid getting stuck, while Dirt Detect™ Technology focuses cleaning where its needed most, like the dirtiest areas of your home.
Dream team of clean
With Imprint® Link Technology, Roomba® i3+ robot vacuum and Braava jet® m6 robot mop can team up to vacuum then mop in perfect sequence, giving your floors a comprehensive clean without any effort from you.
Stays In Bounds
Keep Out Zones allow you to clean with added control, actively avoiding the areas you tell your i7+ or m6 robot not to go, like around pet bowls and toys. Once you set a zone it will remain in place for all future cleaning jobs.
Messes Don't Stick Around, Navigation Technology, Recharge & Resume
Wet Mopping and Dry Sweeping Modes
Attach a Braava jet® Cleaning Pad and the robot automatically selects the cleaning method. 
Wet Mopping pads feature wicking fibres to help break-up sticky messes, grime*, and kitchen grease.
Dry Sweeping pads use electrostatic force to capture dirt, dust, and pet hair.
Precision Jet Spray loosens dirt and sticky mess without spraying furniture, rugs, or walls.
*Tested in spot clean mode 
Knows Your Kitchen From Your Living Room
With Imprint™ Technology, Braava jet® m6 does more than just mop your home. It learns and adapts to determine the best way to clean. Since the Braava jet® m6 robot mop knows your home, you can tell it exactly where to clean and when.
Braava jet® m6 is ideal for multiple rooms and large spaces. It cleans in an efficient pattern while navigating around furniture, rugs, and other obstacles. Braava jet® m6 has a maximised-edge design to get into corners and along edges.
Smart Charge & Resume
When Braava jet® m6 robot mop has a low battery, the robot will intelligently recharge for the amount of time needed to continue cleaning and get the job done.