Or

AUD 119.80

today and more time to pay with
ON SALE
WAS $999 NOW $599!
The Roomba®️ e5 Robot Vacuum features a premium 3-Stage Cleaning System that uses Dual Multi-Surface Rubber Brushes, Power-Lifting suction, and a high-efficiency filter to help thoroughly clean every day. The Edge-Sweeping Brush concentrates on edges and corners as intelligent navigation and Dirt Detect™️ technologies help the robot get around furniture and focus on areas that need it most. Control and schedule cleanings using the iRobot HOME App.
TEMPORARILY OUT OF STOCK
iRobot Roomba e5 Robot Vacuum.
The iRobot limited warranty shall not apply to failures or problems which are caused by products or equipment not authorised by iRobot Corporation.
Box Contents:
1 iRobot Roomba e5
1 Rechargeable Battery
1 Home Base Charging Station
1 Line Cord
1 Dual Mode Virtual Wall Barriers (batteries included)
1 Extra Filter
1 Year Manufacturer's Limited Warranty On Robot and Battery
Specifications:
Robot Dimensions: 37.8 cm in diameter, 9.14 cm in height
Robot Weight: 3.3 kg
Wi-Fi Setup Requirements:
This robot will connect to a 2.4GHz network only. 
General FAQs
How do Roomba® vacuuming robots work?
For a vacuuming robot to be effective, it not only needs to be able to clean well, but must have the ability to navigate real world homes. Roomba® uses a full suite of sensors and an advanced navigation system to seek out the dirtier areas of your floors and spends more time cleaning them.
Will Roomba e5 work without using the iRobot HOME App?
Yes, Roomba e5 can be used without the iRobot HOME App, but the App allows you to use your iOS or Android smart device to help you have the best possible experience with Roomba e5. With the iRobot HOME App, you can gain access to exclusive features including cleaning while away from home, managing your robot's cleaning schedule, customizing your cleaning preferences and more. Now compatible on devices with Amazon Alexa and the Google Assistant.
How do Roomba® vacuuming robots compare to an upright vacuum?
Roomba® can go places your upright can't – like under most furniture to get dust bunnies and pet hair. It can also be scheduled to clean every day to stay ahead of dirt build-up.
Can Roomba® vacuuming robots adjust to different floor surfaces?
Yes. Roomba® automatically adjusts to clean carpets, rugs, tile, hardwood, and laminate floors as it moves through your home. 
Will Roomba work on dark or black surfaces?
Unfortunately, Roomba may not run on certain dark or black coloured surfaces. The cliff sensors that recognise an edge or a stair may view this colour as an edge and will not clean over it. When encountering this situation, Roomba may say "Move Roomba to a new location," or it may back away from this area. There is no adjustment that can be made to correct this behavior.
Do not block or disable the cliff sensors, as this may create an unsafe operating condition.
Great For Pet Hair, Intelligent Navigation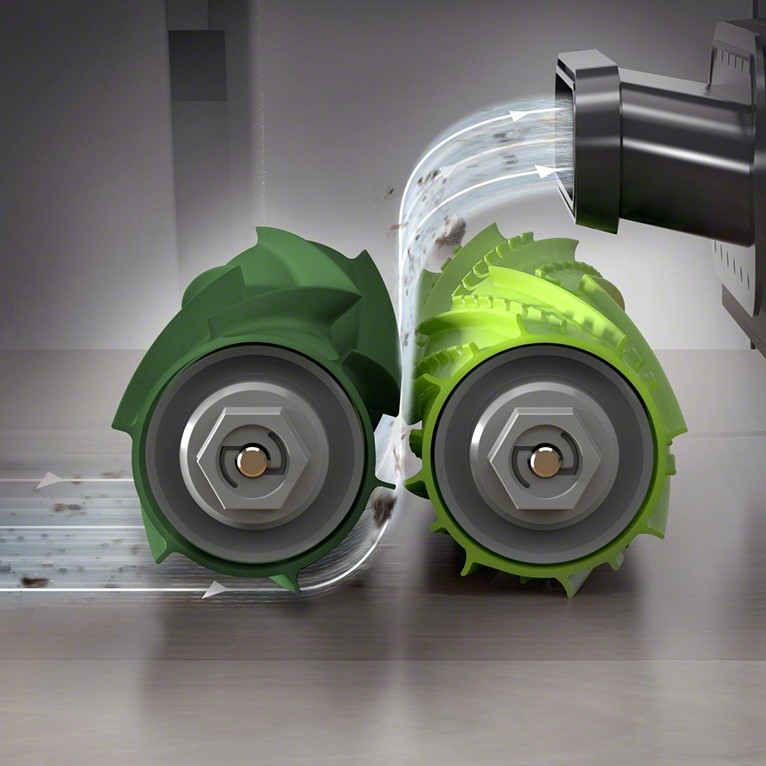 Rubber Brushes That Know A Thing Or Two About Cleaning
Instead of bristles that bend and can miss dirt, our unique flexible rubber brushes hug different floor surfaces, staying in close contact with wood and carpet to help thoroughly clean your floors. The Edge-Sweeping Brush is specially designed at a 27-degree angle to sweep debris away from edges and corners to be suctioned off your floors.
Small dust? Large debris? No problem
Ideal for homes with pets - Pulls in stubborn dirt and messes with a 3-Stage Cleaning System that uses Dual Multi-Surface Rubber Brushes, an Edge-Sweeping brush for walls and corners, and 5X the Power-Lifting Suction*.
*Based on proposed IEC fiber pick-up test against Shark, Neato, Ecovacs, iLife, bObsweep.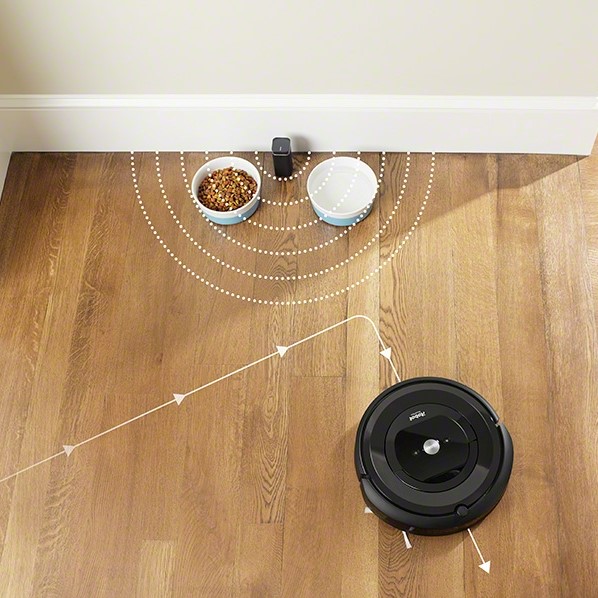 Intelligently Navigates Your Home - "Isolate" The Rooms You Don't Want Roomba To Go
iAdapt Navigation uses a suite of intelligent sensors that help the Roomba e5 make more than 60 decisions per second to adapt to your home's different rooms and help to thoroughly clean your floors, even in the dark. Cliff sensors keep it away from stairs and other drop-offs. The Auto Virtual Wall creates an invisible barrier that keeps your Roomba Robot Vacuum in the rooms you want clean and out of the ones you don't.
Dirt Detect, Auto-Adjust Cleaning Head, Washable Bin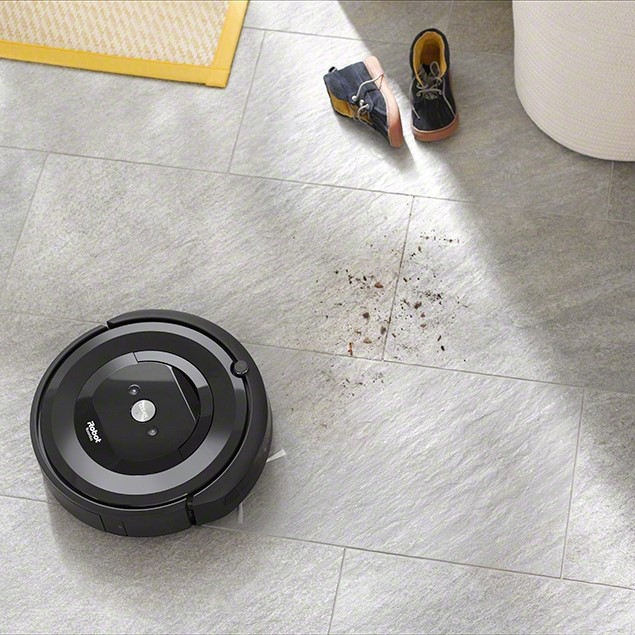 Smart enough to outsmart furniture
A full suite of advanced sensors allow the e Series to navigate under and around furniture, and along edges. Cliff Detect keeps the robot from falling down stairs; automatically docks and recharges after cleaning.
Cleans Debris From Carpets And Hard Floors
The Auto-Adjust Cleaning Head automatically adapts its height to keep the Dual Multi-Surface Brushes in close contact with different floor surfaces, to effectively clean hard floors and carpets.
Senses and eliminates dirt
Dirt Detect™ Sensors alert your robot about dirtier areas of your home, like high-traffic spots, and cleans them more thoroughly. Auto-Adjust Cleaning Head automatically adapts its height to effectively clean carpets and hard floors.
High-Efficiency Filter, Scheduled Cleaning
Gets The Dirt You See - And The Dust You Don't
The High-Efficiency Filter is made from a special material that captures 99% of mould, pollen, dust mite, dog and cat allergens.
Robots that plan ahead
Our robots learn how you like you to clean and give you personalized suggestions to automatically schedule those cleanings or suggest times when your home may need more frequent cleaning—like pet-shedding or allergy season
Control and schedule cleanings on your Wi-Fi connected Roomba Robot Vacuum with the iRobot HOME App. You can monitor cleaning activity, view cleaning history, and watch maintenance videos. The app also updates your robot with the latest software, so it's always up-to-date with new features.
Amazon device(s) sold separately. The Amazon Alexa skill is available in English.
Google Home device(s) sold separately. The Google Assistant and Roomba® Robot Vacuum integration is available in English.
Clean without lifting a finger
Keep doing what you're doing. Through the iRobot Home App or your Google or Alexa voice assistant, simply tell your robot to clean — and consider it done.