iRobot Roomba 960 Robot Vacuum
Roomba® 960 Robot Vacuum gives you cleaner floors, throughout your entire home, all at the push of a button. vSLAM technology allows Roomba® 960 to seamlessly navigates an entire level of your home, keeping track of its location and recharging as needed until the job is done. Its powerful cleaning system with Dirt Detect™ sensors finds and captures dirt, dust, and debris from hard floors and carpets. And with the iRobot HOME App, you can clean and schedule on the go.
Description
Details
iRobot Roomba 960 Robot Vacuum.
The iRobot limited warranty shall not apply to failures or problems which are caused by products or equipment not authorised by iRobot Corporation.
Specs
Box Contents:
1 iRobot Roomba 960
1 Rechargeable Battery
1 Home Base Charging Station
1 Line Cord
1 Dual Mode Virtual Wall Barriers (batteries included)
1 Extra AeroForce High-Efficiency Filter
1 Extra Side Brush
1 Year Manufacturer's Limited Warranty On Robot and Battery
Specifications:
Package Dimensions: 52 x 13 x 42 cm
Package Weight: 6.21 kg
Robot Dimensions: 35.05 cm in diameter, 9.14 cm in height
Robot Weight: 3.94 kg
Downloads
FAQ
General FAQs
How does Roomba® 960 navigate an entire level of your home?
Roomba® 960 seamlessly navigates an entire level of your home, recharging as needed until the job is done. At the start of a cleaning cycle, Roomba® 960 uses iAdapt® 2.0 Navigation with Visual Localisation to map out a series of small areas, cleaning them efficiently, one at a time. Using this map, Roomba® tracks where it has and has not been to ensure complete coverage.
Will Roomba® 960 work without using the iRobot HOME App?
Yes, Roomba® 960 can be used without the iRobot HOME App, but the App allows you to use your iOS or Android smart device to help you have the best possible experience with Roomba® 960. With the iRobot HOME App, you can gain access to exclusive features including cleaning while away from home, managing your robot's cleaning schedule, customising your cleaning preferences and more.
Will Roomba work on dark or black surfaces?
Unfortunately, Roomba may not run on certain dark or black coloured surfaces. The cliff sensors that recognise an edge or a stair may view this colour as an edge and will not clean over it. When encountering this situation, Roomba may say "Move Roomba to a new location," or it may back away from this area. There is no adjustment that can be made to correct this behavior.
Do not block or disable the cliff sensors, as this may create an unsafe operating condition.
Reviews
3-Stage Cleaning System, Ideal For Pet Hair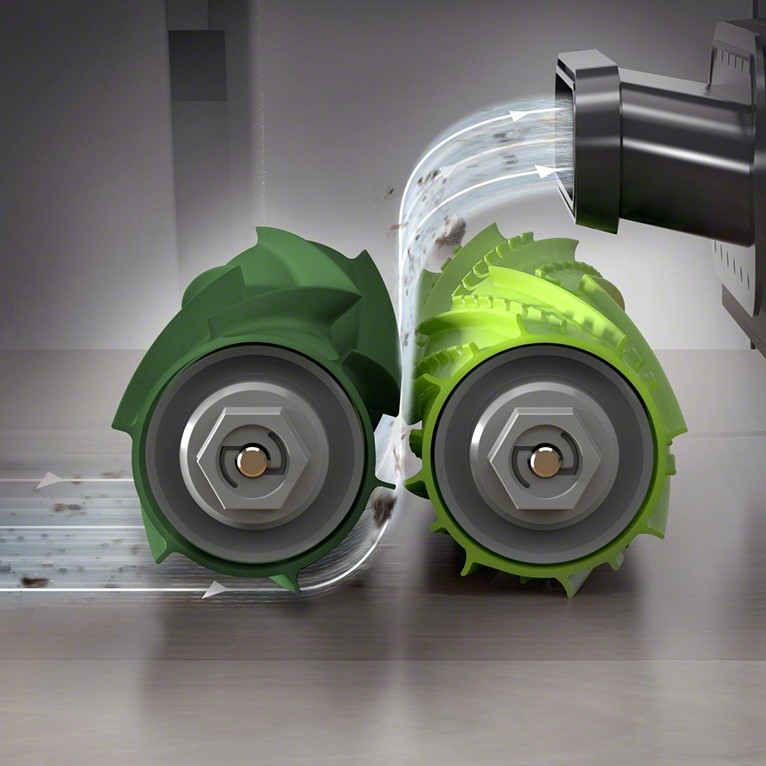 Up To 5X More Air Power*
The AeroForce 3-Stage Cleaning System uses tangle-free Multi-Surface Brushes and Power-Lifting Suction to pull in embedded dirt, debris, and pet hair. Power Boost mode automatically boosts air power on carpets, where dust and dirt hide. The High-Efficiency Filter is made from a special material that captures 99% of dust, mites, and allergens as small as 10 microns.
*Compared to Roomba 600 Series AeroVac System.
Ideal For Homes With Pets
Tangle-free Dual Multi-Surface Brushes handle pet hair with ease, reducing hair tangles and brush maintenance. The high-efficiency filter captures all allergens, pollen, and particles as small as 10 microns.
Cleans All Floor Types
The Auto-Adjust Cleaning Head automatically adapts is height to keep the Multi-Surface Brushes in close contact with different floor surfaces, effectively cleaning carpets and hard floors.
Intelligent Navigation, Enhanced Run Time, Dirt Detect
Multi-Room Coverage
iAdapt 2.0 Navigation with Visual Localisation helps Roomba seamlessly and efficiently navigate an entire level of your home and keep track of its location. With a full suite of smart sensors and a low 9.2cm profile design, Roomba can vacuum where dirt and dust hide, navigating around furniture and under beds, sofas and other hard-to-reach places.
Imprint™ Link Technology
Roomba 960 tells Braava jet® m6 to start mopping when vacuuming is complete, for an extra level of clean.
Advanced Dirt Detect Technology
Patented Dirt Detect sensors recognise concentrated areas of dirt, like in high-traffic zones of your home, and provide additional cleaning in those spots.
Clean Floors From Anywhere, Anytime
Recharge & Resume
Roomba 960 runs continuously for up to 75 minutes*, then automatically recharges and resumes cleaning to complete the entire job.
*Tested in iRobot's Home Test Lab on hard floors. Run times may vary.
Edge-Sweeping Brush
The Edge-Sweeping Brush is specially designed at a 27-degree angle to sweep debris away from edges and corners and into the path of the 3-Stage Cleaning System to be suctioned off your floors.
Enhanced iRobot HOME App
Clean and schedule anytime, from anywhere with the iRobot Home App. Customise how Roomba 960 cleans, choosing from one or two passes and final edge clean. View Clean Map reports to see maps of the area cleaned. Plus, access tips and support, turn on push notifications, and more - all from your smartphone. Roomba 960 is also compatible with Alexa & Google Home. Simply ask your Home assistant to start, stop, or dock your Roomba.
Amazon device(s) sold separately. The Amazon Alexa skill is available in English.
Google Home device(s) sold separately. The Google Assistant and Roomba® Robot Vacuum integration is available in English.